Our Land of Azurth 5e game continued, with our heroes still trying to figure out a way to free the Land of Under-Sea from the evil of the Temple of the Toad. After a night's rest to heal their wounds, they decide to infiltrate the temple during sunrise services. They are joined by the cat man
Calico Jack
. Smooth-talking there way past the guards ("as long as you sit in the back") the PCs saw the service, ending in the sacrifice of hapless froglings into the maw of the toad idol.
They noted the tapestries and friezes seem to denote some sort of apocalypse, that allow frog or toad people were spared, apparently under the protective hand of some sort of banjo-playing, messianic frog figure. They figure if push comes to shove, Waylon can inpersonate this "Frog Jesus."
While the cultist were distracted with their ritual, they pick the lock and enter one of the adjacent rooms. They find equipment they don't understand...
...including what appears to be a weapon, but when someone seems to be coming toward the door, they have to hurry into another room. Seeing signs of their entry evident, the cultist raise an alarm that is announced through the temple by a disembodied, feminine voice.
The party tries to make a break for it, but the doors are closed. They attack the guards and cult elite present in a pitch battle. The guards go down quickly, though there are a lot of them. The higher level cult members are armed with weapons that shoot searing beams of light. They nearly kill the Sorcerer, Kairon, with these weapons.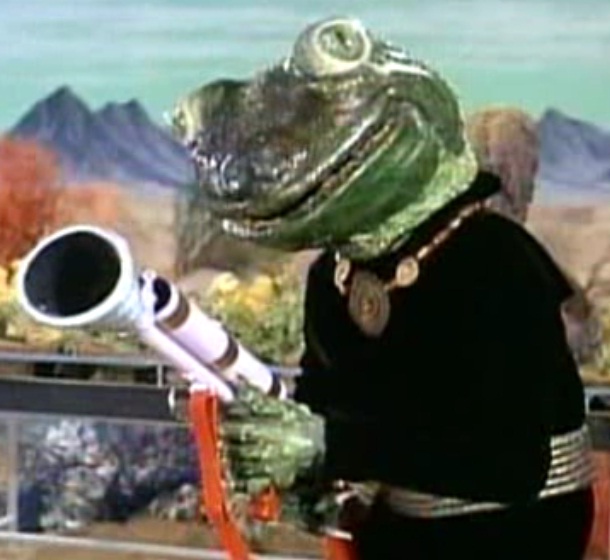 The high priest is particularly hard to kill, even with the party's concentrated attacks. He offers to parlay for their lives, but the party doesn't believe him. Erekose strides up and brings the fight to him. The High Priest emerges from cover to accept the challenge. He deals Erekose two devastating blows with his great sword, but now he's in the open and the party finishes him off.
Their victory is short lived, because more guards arrived. Shade releases the jade bear she acquired long ago, and Dagmar throws down her serpent staff, which becomes a giant python. The party and their animal allies kill the guards. For the moment, the temple nave is theirs...